This wedding was special.  From the moment I met Lauren and her twin sister (you may know them as the Asian Cajuns… check out their blog!) at the Dancing Goats coffee shop in Decatur several months ago to discuss Lauren's wedding (which she has called an upgraded elopement… though I have never seen or heard of an elopement like this one), I knew that this event was going to be one to go down in the history books here at AHP.  Rather than rambling on about how excited I am to share photos from Lauren + Matt's soiree, I'll let the pictures speak for themselves (with occasional narration, in captions):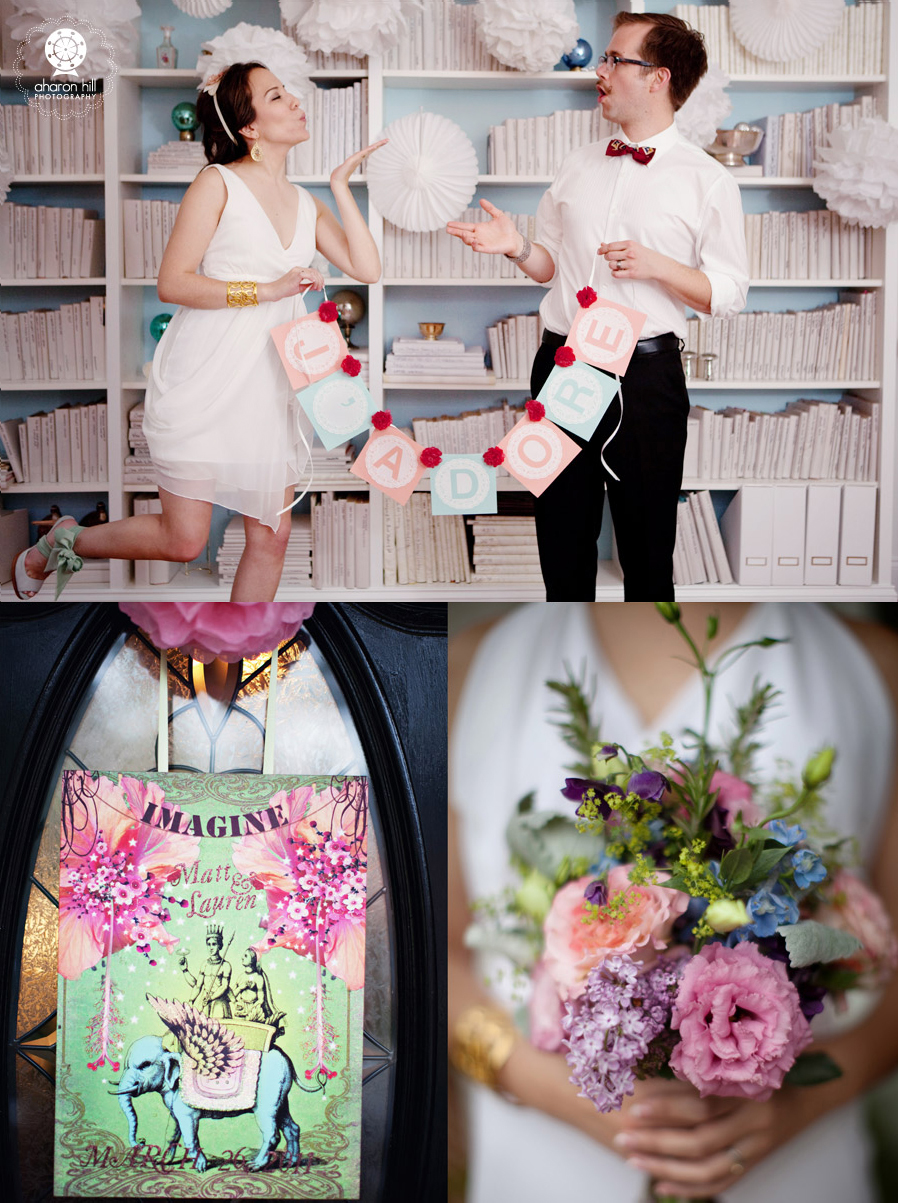 Lauren and Matt married in the library of Lauren's parents' house.  But my stylist bride would not settle for any run-of-the-mill library… every book had to be covered in white paper with the title handwritten on the spine, and the shelves were styled in white and cream accessories, with accents in shades of teal and blue.  Can you say gorgeous? Oh yeah, and there were two dresses (=twice the fun)!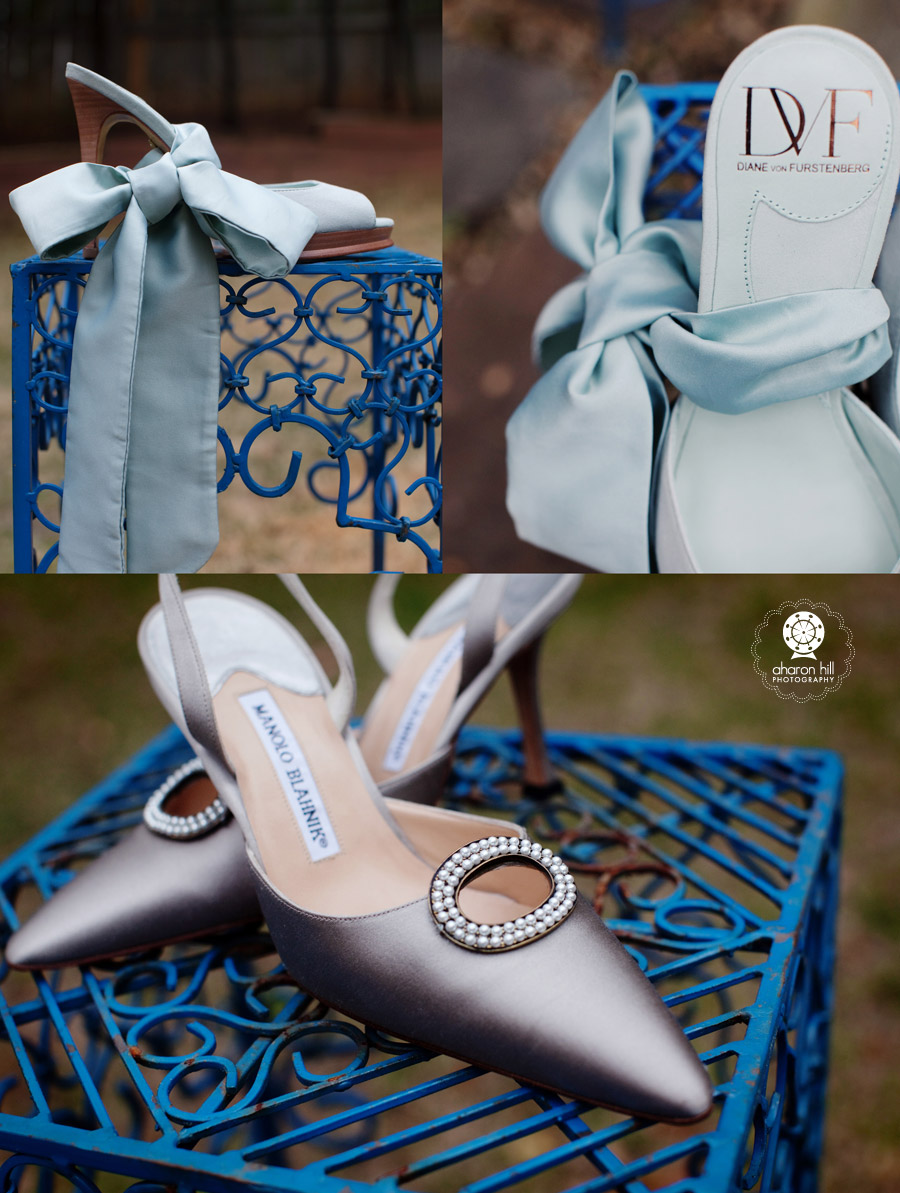 And what would this wedding be without some pretty spectacular shoes?  Lauren's "something blue" was a pair of tie-on Diane von Furstenberg platform pumps, while Lauren's sister debuted a pair of Manolo Blahnik slingbacks.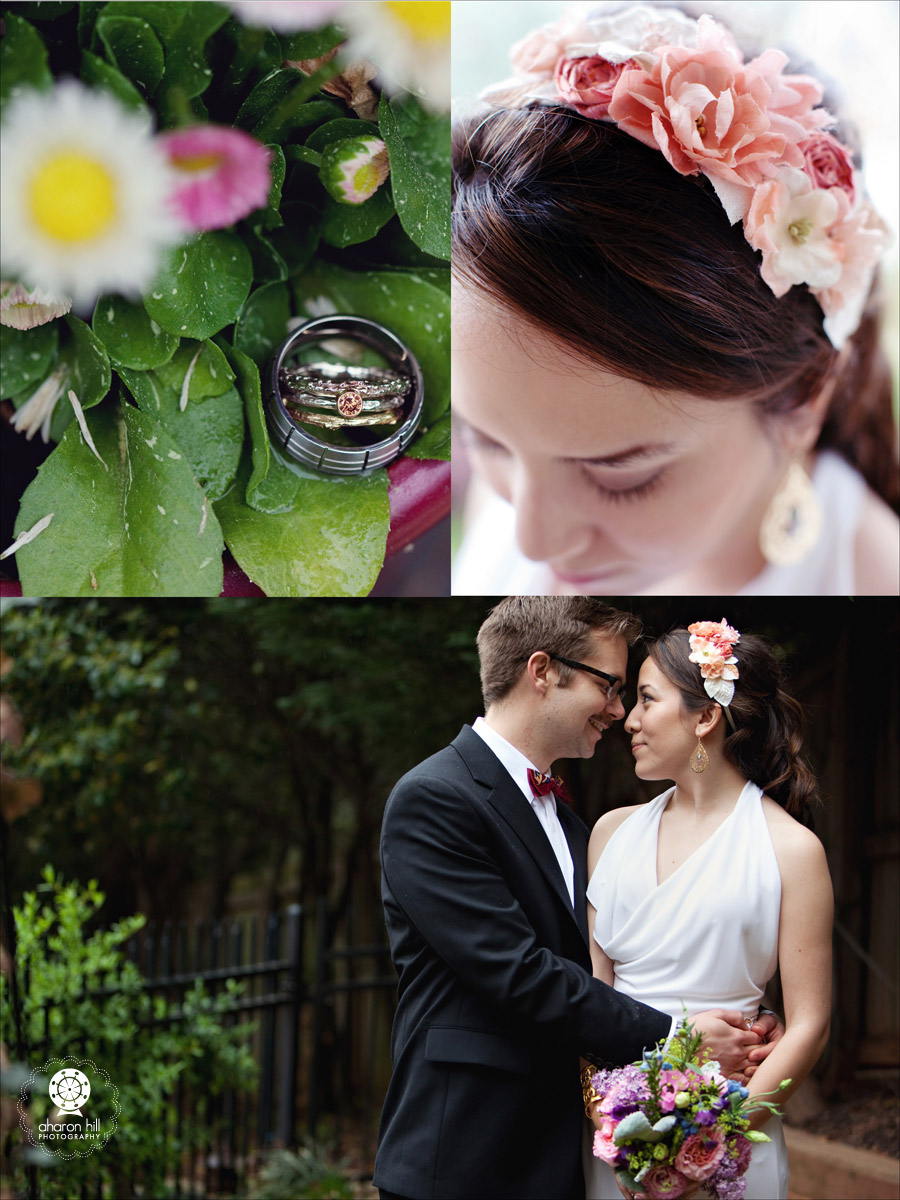 Check out Lauren's cognac solitaire diamond, with gold and white gold bands– all cruelty free and recycled!  And her sweet little hairpiece.  Guess what?~ both the ring set AND the headband came from ETSY.  Love it.


Mustaches were a theme throughout the day.  My understanding is that Matt grew his out just for the wedding, and that he asked his brother to do the same.  The stache-less member of the male trio pictured above was actually a "bridesman," and was therefore exempted from the mustache-growing requirement.  And Matt's sister (in purple above) was also given a pass, even though she was technically a "groomsmaid."


The ceremony was beautiful.  It was officiated by Matt's own mother.


Since bar-b-q was for dinner, Lauren made bibs for everyone! And please check out the party hats on the busts.  Can you tell that I was in heaven?


The table was so decadent and lovely.  I cannot even imagine how many hours went into crafting the napkin rings… and what's even more impressive is that [I believe I overheard] Matt had a hand in assembling them. He is going to make a stellar hubby!


Matt and his brother brewed a wedding beer, and Lauren used her graphic design skills to come up with an adorable label.  Lauren even insisted that Jackelyn (my assistant) and I take one home!


Did I mention that it rained like crazy on Saturday?  Which explains why the getaway car is covered in droplets of rain.  But the family dog was not afraid to get a little damp for a photo op 🙂


And, they're off!


Oh, and party favors were homemade pop tarts!  Lauren insisted that we take one of these too, and I ate mine  the same night.  It was divine!
Happy Honeymoon you guys… and thanks so much for letting me share in your special day!